Buy Christmas Tree Comparision Guide
Buy Real Christmas Trees Online
Brown's Tree Farm has a large selection of High Quality, Fresh, Real Christmas Trees. For our Mail Order Customers we only recommend Fraser Fir, Balsam Fir, and White Pine. These varieties are truly the best and we reserve only the very best for Mail Order Christmas Trees. Please review the chart below to help you decide which one of these beautiful Real Christmas Trees is right for your home this holiday season.
Not sure why you should Buy a Christmas Tree Online from Brown's Tree Farm? We encourage you to take some time and view our three comprehensive photo galleries. Once you see the quality of our Fresh Real Christmas Trees Online we're confident you will look forward to doing business with Brown's Tree Farm for this holiday season. View ourChristmas Tree Testimonials page to see what our customers have to say about our Quality Christmas Trees and Quality Service.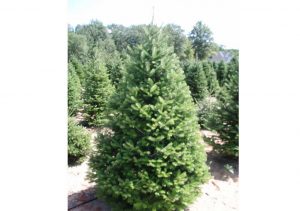 Tree Image


Branch Image
Tree Properties 1-10 Scale: 1 = Poor, 10 = Excellent
Needle Retention – 7
Needle Softness – 10
Branch Strength – 7
Fragrance – 10
Density – 9
Balsam firs have several desirable properties. They have a dark-green appearance, long-lasting needles, and attractive form. Balsam Firs are also the most fragrant.
It requires from 9 to 10 years in the field to produce a 6-7 foot tree.
3′ Price – N/A
5′ – 6′ Price – $53 –

BUY NOW


6′ – 6.5′ Price –

$58

–

BUY NOW


7′ – 7.5′ Price –

$68

–

BUY NOW


8′ – 8.5′ Price –

$89

– BUY NOW
The prices listed above include: Free Tree Removal Bag
Free Boughs (upon request)
Free Tree Drilling (upon request)
Note: All Christmas Trees and Wreaths are shipped every Monday and Tuesday. Orders must be placed by 9:00AM on Sunday in order to ship that Monday or Tuesday.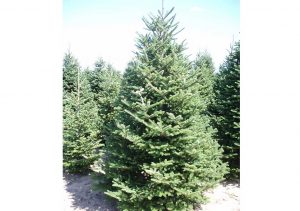 Tree Image

Branch Image
Tree Properties 1-10 Scale: 1 = Poor, 10 = Excellent
Needle Retention – 10
Needle Softness – 10
Branch Strength – 8
Fragrance – 8
Density – 8

Fraser Firs

are often referred to as the "Rolls Royce" of Christmas Trees.

Fraser firs are famous for their two tone needles. Each needle has a dark green top with a silver underside. With a stiff branch, soft needles, and pleasant aroma Fraser Firs are a treat to decorate. The best thing about Fraser Firs is that their needle retention is excellent.

It requires from 7 to 10 years in the field to produce a 6-7 foot tree.

3′ Price – N/A
5′ – 6′ Price – $55 – BUY NOW
6′ – 6.5′ Price – $63 – BUY NOW
7′ – 7.5′ Price – $78 – BUY NOW
8′ – 8.5′ Price – $99 – BUY NOW

The prices listed above include:

Free Tree Removal Bag
Free Boughs (upon request)
Free Tree Drilling (upon request)

Note: All Christmas Trees and Wreaths are shipped every Monday and Tuesday. Orders must be placed by 9:00AM on Sunday in order to ship that Monday or Tuesday.

View Pictures
View Slideshow
Details – Buy Balsam Fir Online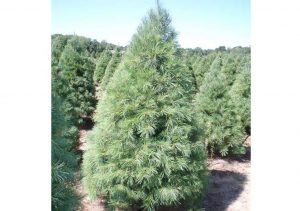 Tree Image

Branch Image
Tree Properties 1-10 Scale: 1 = Poor, 10 = Excellent
Needle Retention – 8
Needle Softness – 10
Branch Strength – 2
Fragrance – 2
Density – 10

White Pines have a soft branch and needle. Needle retention is good to excellent. White pine has very little aroma, but, conversely, is reported to result in fewer allergic reactions than do some of the more aromatic species.

It requires from 6 to 8 years in the field to produce a 6-7 foot tree.

3′ Price – $39 – BUY NOW
5′ – 6′ Price – $48 – BUY NOW
6′ – 6.5′ Price – $53 – BUY NOW
7′ – 7.5′ Price – $58 – BUY NOW
8′ – 8.5′ Price – N/A

The prices listed above include:

Free Tree Removal Bag
Free Boughs (upon request)
Free Tree Drilling (upon request)

Note: All Christmas Trees and Wreaths are shipped every Monday and Tuesday. Orders must be placed by 9:00AM on Sunday in order to ship that Monday or Tuesday.

View Pictures
View Slideshow
Details – Buy Balsam Fir Online